---
INDIGENOUS
BRAND DESIGN
JHerro Pty Ltd is a 100% 'Women Owned Indigenous Business' we navigate the 'Diversity & Inclusion' landscape.  Unlocking commercial value with compliant, reportable products and brands that can achieve Indigenous and minority engagement targets for policy, reconciliation action plans (RAP) and corporate social responsibility.
---
About
Jasmin Herro is an Indigenous business woman and entrepreneur who has owned and operated several successful businesses over the past two decades. She has comprehensive work and management experience in a wide variety of industries. A descendant from the Torres Strait Islands – Mer (Murray) Island Jasmin is a registered artist with the Australian Indigenous Art Code and has created, designed and launched two Indigenous brands: Tjindgarmi stationery and office products and Teter Mek story books and classroom resources. She is an international keynote speaker on supplier diversity and Indigenous business.  She is the current CEO of the Teter Mek Foundation which creates products and programs that encourages school children of all ages and backgrounds to connect with their local Aboriginal and Torres Strait Islander cultures.
---
ACCOMPLISHMENTS
2014 Melbourne Business School – 'Outstanding Recent Alumnus'
2014 Ethnic Business Awards – Indigenous Finalist
2014 AFR/Westpac 100 Women of Influence – Business Enterprise
2014 Supply Nation – 'Special Recognition'
Keynote and Guest Presenter:
Australian Red Cross Indigenous Food Security Forum
(Alice Springs) 2009
Ashfield Council International Women's Day (Haberfield) 2011
Procurement & Supply Australasia (PASA) (Melbourne) 2013
Int'l Women's Federation of Commerce & Industry (IWFCI) (Melbourne) 2014
Building Indigenous Business (Okwaho Network)(Toronto) 2015
Indigenous Global Trade Opportunities Panel (RES) (Las Vegas) 2015
Social Entrepreneurship – Speech Day (The British Schools of Nanjing) 2015
The Key to Meeting the Future (Procurement Australia) (Melbourne) 2016
International Women's Day Staff Lunch (King & Wood Mallesons) (Sydney) 2017
Melbourne Business School Leadership Dinner (MBS) (Melbourne) 2017
Native Title & Economic Conference (Native Title Services Victoria) (Melbourne) 2017 Indigenous Inclusion Panel (Tech Inclusion) (Melbourne) 2018  Close the Gap Day (ASIC in the Community) 2018
Supplier Conference (Melbourne) (Telstra) 2019
Supplier Diversity in Defence (Brisbane) 2019
Indigenous Business Boeing (NAIDOC Week)(Brisbane) 2019
Indigenous Storytelling (Karama Library) (Darwin) 2019
Indigenous Women in Construction (Sydney) 2019
Indigenous Business (Broadspectrum) (Sydney) 2019
Indigenous Women in Business (Gender Accountability Conference) (RMIT) (Melbourne) 2019
Indigenous Entrepreneurship (iFAB) (Sydney) 2019
---
Diversity
---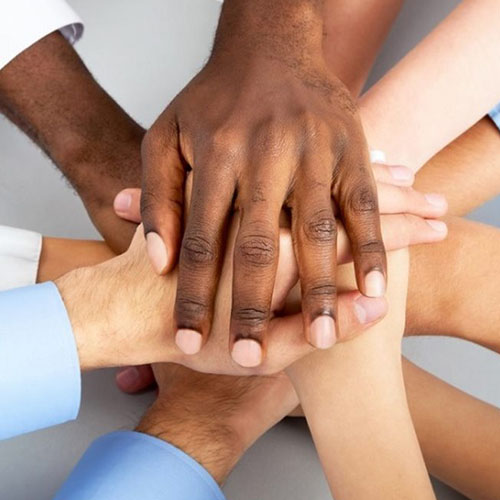 The Federal Government Indigenous Procurement Policy (IPP), NSW Aboriginal Participation in Construction (APIC) and other policies designed to engage with Indigenous businesses (based on majority ownership) to create a sustainable economy for Indigenous people to use commerce to achieve economic success and employment outcomes for Aboriginal and Torres Strait Islander people.
Prime contract holders with Federal and State Government are starting to see realise the value in supplier diversity and including Indigenous businesses in their supply chains.  It is indeed time to take Indigenous business out of corporate social responsibility (CSR) and put it on the balance sheet.
---
Art & Culture
---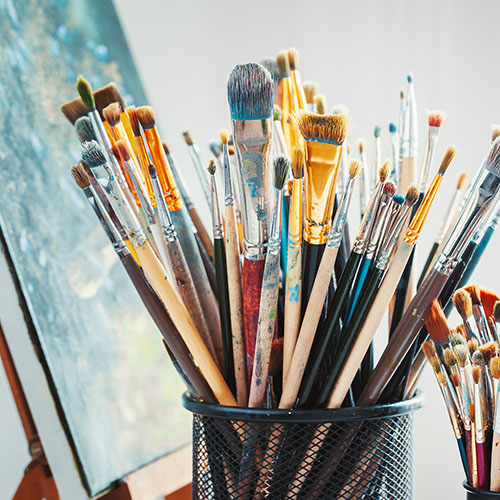 As a registered artist with the Australian Indigenous Art Code, my preferred media is paint on ceramic and canvas.  I value the opportunity I've had to connect with my art and culture and share them through the creation of both Tjindgarmi and the Teter Mek which has been a life changing journey. These brands and products have been created for a commercial market and it has been a source of great pride to be able to monetise my craft and passion.
The support and guidance I have received from the Melbourne Business School and the Asia Pacific Social Impact Centre – through the 'Murra' Indigenous Business Master Class has enabled me as an entrepreneur to grow personally and connect with like minded Aboriginal and Torres Strait Islander business owners and executives.
Teter Mek Storybooks
&
Workbooks
---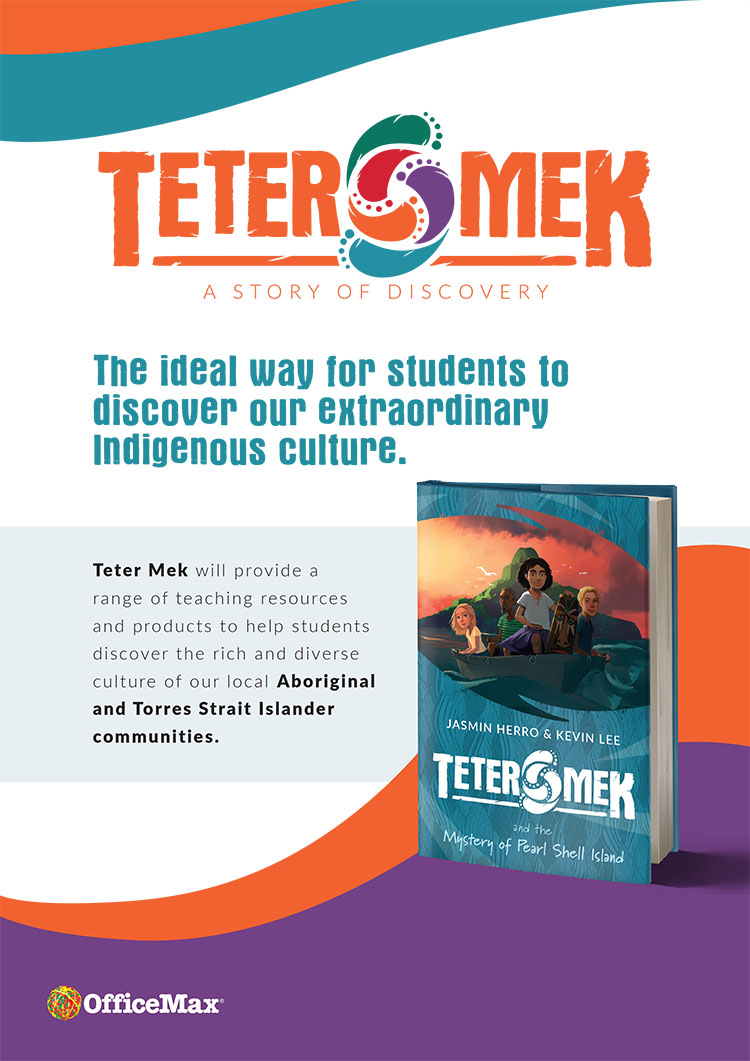 I hope that Teter Mek will become a repository for hundreds of stories from around the country.  This way many of the stories we uncover will be able to be kept forever.' ~ Jasmin Herro
The Story
Teter Mek was created in collaboration with OfficeMax as a response to the request from teachers to provide resources for teachers and children as many have struggled to engage, not for the lack of will; but for the fear of mistakes and unintentionally causing offence.
The first of a series of a fictional storybooks is about a little girl from somewhere in the Torres Strait who is lost. She embarks upon a journey travelling around Australia trying to find out who she is and where her family has gone.  During the course of her travels she finds and connects with many Aboriginal and Torres Strait Islander children around the country and learns stories about their local culture.  This has become a metaphor for my journey of self-discovery.  My intent was to encourage school children from all backgrounds to find out about and connect with their local Aboriginal and Torres Strait Islander communities.  The Teter Mek Project is proudly championed by OfficeMax the largest supplier to schools in Australia.
BOOKS
Book 1
(available in bookstores now)
Teter Mek & the Mystery of Pearl Shell Island
*Matching workbook April 2018
Book 2
Teter Mek & the Stolen Crocodile Eggs  Expected release June 2018
*Matching workbook September 2019
Book 3
Teter Mek & the Tiger Snakes of Crystal Cave
Expected release April 2021
*Matching workbook September 2020
Book 4
Teter Mek & the Bush Fire of Possum Creek Valley
Expected release September 2021
*Matching workbook February 2022
---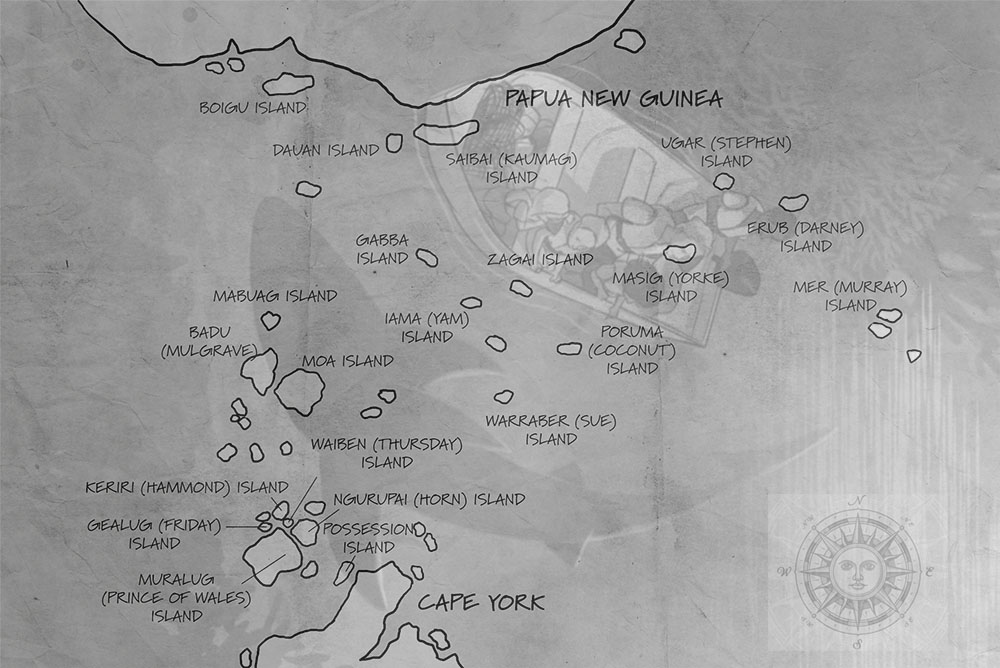 MAP OF
THE TORRES STRAIT
TJINDGARMI OFFICE SUPPLIES
When I started this project I knew only a little about my culture from the Torres Strait Islands – the power of the tiger shark, the abundance of the fish in the ocean, the beauty of the pearls and the wisdom of the octopus. I wrote a story about a warrior and based the art around his shield.  Many cultures around the world can relate to shields and their stories.
'Tjindgarmi was the twin brother of the tiger shark and a great warrior and protector of the sea, respected by many including his enemies.  One day after a lifetime full of battles and adventures he is coming to the end of his life and decides to take himself down into the ocean and ask his brother the tiger shark to dispatch him from his humanly form.  His brother the tiger shark, pleads with him as he can not do this; so they pray to their god and the god takes pity and turns Tjindgarmi into an octopus.  To this day you can see the brothers swimming together around the waters of the Torres Strait.' ~ Jasmin Herro
---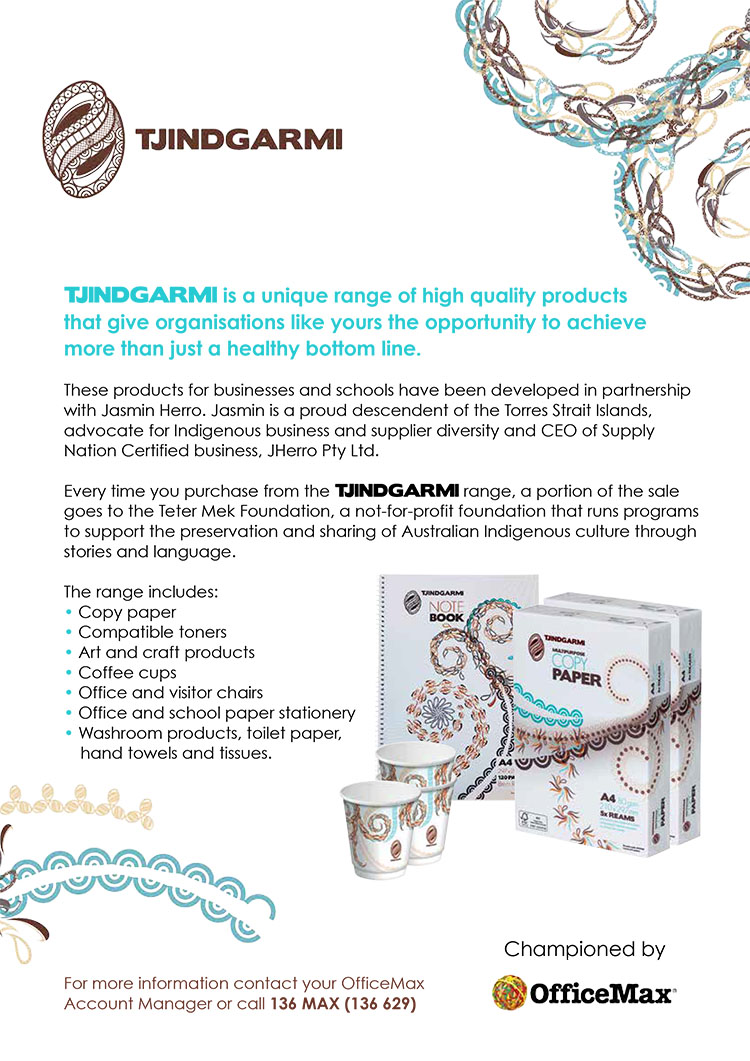 The intention was to create a brand and range of products in collaboration with Jasmin and JHerro Pty Ltd for government and corporate buyers to engage with in confidence, show multiple levels of value and  produce a clear and transparent social outcomes.  By supporting the Teter Mek Foundation and giving back to the Indigenous community it was not only the right thing to do but it made commercial sense for OfficeMax and JHerro.  Now we help build solutions for our customers and create an impact that can change lives. ~ Paul Munkley (Director Sales & Marketing – OfficeMax Australia)
---
COLLABORATION
Building relationships on the strength of shared values and beliefs sets the foundation for successful collaboration.
CONTACT
JHERRO PTY LTD
Level 26, 44 Market Street, Sydney, NSW, 2000. Australia.
admin@jherro.com
+61 402 368 368
---